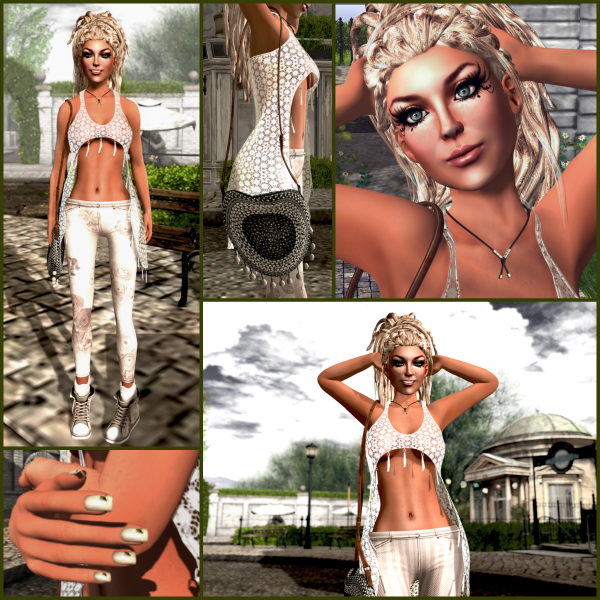 Hi guys!  I've missed you!  Is it just me, or does it seem like SL creators are working overtime to bring us some of the best stuff on the grid?  I always like it when the seasons change…it is always so nice to start wearing different colors or put on/take off more clothing….but this summer has been exceptional for me!  It seems like everywhere I turn, I see new things, new styles, even new bathing suits that I like!  I so seldom like a bathing suit!  And there are SO many REALLY GOOD sales events to go to that you can get some really great additions to your wardrobe for very little Lindens!  Always a good thing, right?
I loved this outfit from the first moment I saw it.  It is from Jinx.  For some reason, her stuff just seems to stand out to me.  I bought one of her creations a while back before I got my blog up and running and posted the pics on flickr.  You can see them here.  There are several things about her creations that I seemed to be drawn to.  First off, I love the pics on her vendors.  They always seem to be dreamy and take me places when I look at them…so I am naturally drawn to her creations.  And MANY of her items are cute, casual and sexy.  I have not been much on casual in the past, but I am really LOVING the look and feel.  Taylor has a lace top that is cut SO cute, showing us just a little bit…but not too much and the tassels hanging from the top are a nice touch.  MANY of her outfits have matching items included….for the same price!  Taylor has a HUD with three different textures for the pants.  I have featured two of them in the above pic.  The other pair is a solid beige, that would pretty much match anything.  And then look at these matching tennis shoes!  They are also included in the outfit.  When I saw them I was sold!  I picked this up at a previous round of the Color Me Project, although Taylor IS available at her mainstore.  Jinx also has some adorable items this month at the Color Me Project.  Including a pair of platform stilettos that match all her outfits at CMP perfectly.  A couple of the items are exclisive to CMP.  So they will not be available after the event ends.  This month the color was "Summer" and includes several really nice bright summery shades of orange, yellow and red-ish.  You really need to drop by there and see the colors to know what I am talking about.  But you have to hurry!  It ends July 4th!
I LOVED these dreads!  Gone are the days when dreads looked like worms on your head!  The texture on these dreads really give them a natural look and I thought they were perfect with this outfit.  They are also from No.Match, just like last week.  I am really liking many of the items I am seeing from them.  And if you are on a budget, be sure to check them out on Hello Tuesdays, a Tuesday ONLY event in which they participate.  They always have a really cute style in a limited color palette that will not leave you broke.  It is one of my favorite places to go!
Last, but not least is this beautiful skin from Izzie's.  Izzie makes some of the nicest skins on the grid.  They are always clean and clear.  They are youthful, but don't make me look like I'm 12.  They always come with a ton of options and I am always pleased with them.  Samatha is one of Izzie's past skins.  You really need to stop by her main store to see all that she has to offer and sign up for her group.  There is a group joiner fee, but it is really well worth it.  Izzie is generous with her gifts and you won't be sorry!!  Until next time….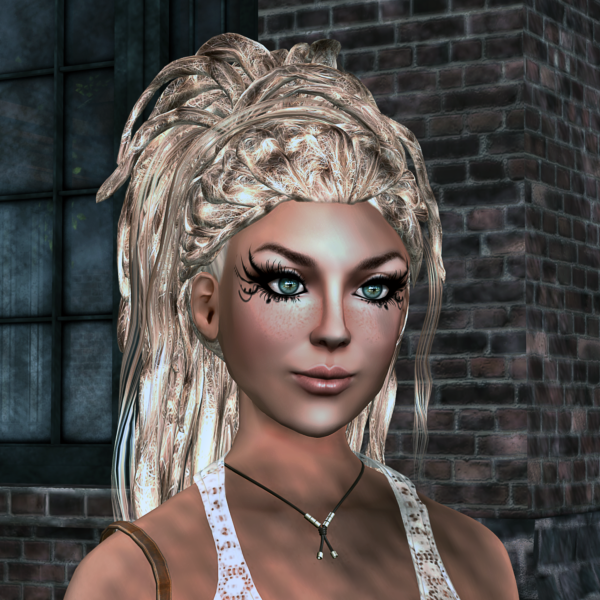 *Top, Pants, Shoes:  Jinx (DD)  – Taylor Pants – Beige, Taylor Sneakers, Taylor Top – Beige
*Skin:  Izzie's – Samantha Skin caramel CL, Izzie's – Geanna Freckles caramel (body + face)
Face Tatoo:   White Widow – Cornes Black wo/eyeshadows  (I bought this some time ago, I have no idea if it is still available or not.)
Hair:  No.Match – NO.FREEDOM.  no.match_HAIRBASE milky
Bag:  –Pixicat– Tropical.Bag (rigged) (Currently available at Summerfest '15.  It is the first rigged bag I have ever owned and I LOVE it! Summerfest will run through July 15th.)
Lashes:  Glow Studio – Innocent. eyelashes – gentle
*Necklace:  Izzie's – Knot & Beads Necklace vintage brown
Mesh Body and Hands:  Maitreya Mesh Body – Lara V3.4, Maitreya Mesh Body – Hand
Mesh Nails:  Pumby – Blooming Sweetpetal
Eyes:  IKON Ardent Eyes – Glass
Poses:  Bounce This Poses – Mega Pose Pack (It was available at the last round of The Dressing Room Fusion.  It comes with a TON of poses already set in an easy to use HUD.  I am not sure if it is available at his main store or not, but it would be worth a trip over there to see!)
Location:  The Instruments (This was taken outside of the actual building The Instrument is in.  They have some really nice grounds around the main building.  The Instruments is featuring Game of Thrones this round.  There is some really nice stuff there!  You have until July 9th to check it out.)