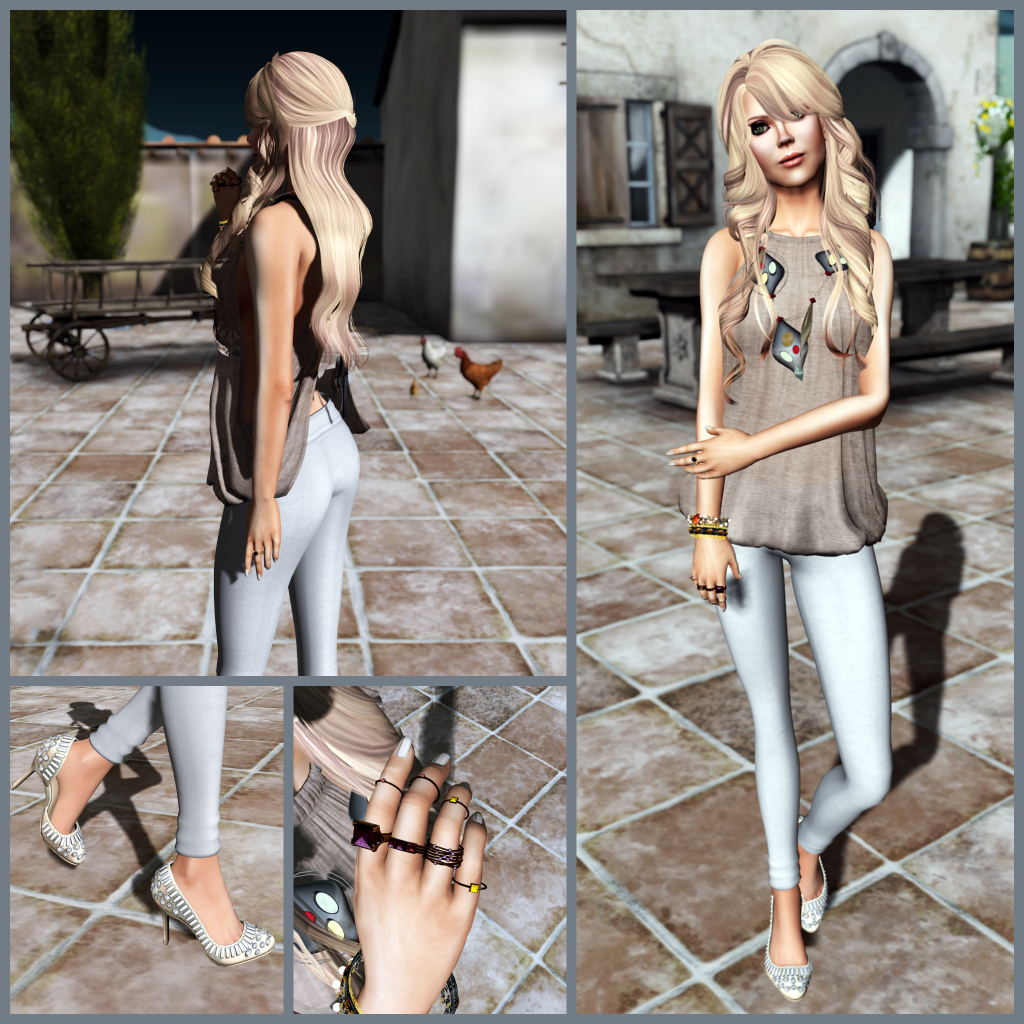 Hi guys!!! Did you miss me? I missed you! It has been about half a year since my last post. I kinda thought that I might not blog ever again…it just seemed like everything was hard, taking pictures was hard, finding time to blog was hard, putting the outfits together was hard, writing the post was hard, keeping up with all the blogging group requirements was hard….everything was hard. It was time for a break. During this period I have spent lots of time shopping and a little bit of time exploring. I continued to put outfits together and admire all the hard work you guys out there are doing. And then a curious thing happened. My laptop, that I loved and had bonded with for 4 years, died. Well, it didn't actually die….I killed it. But it WAS an accident! In any case, I had to buy a new one and here we have it. My sweet partner Vanish, saw to it that I got a really good one…one that takes the most amazing pictures! And guess what???? It is not hard anymore! I can spend more time making the pics look good and putting the pics together and much less time actually taking the pics and crashing.
When I got my new laptop and began to explore its' capabilities, the first thing I wanted to do was take pictures! And once I started taking pictures, I wanted to blog. I posted a few things on my flickr page….and that was nice, but I had so much to SAY about the items I was wearing. And so….that meant I had to get my blog up and running…and when I say *I* had to get it up and running, what I really mean was I had to nicely ask Vanish to do that for me! (Thank you, again, my love…<3) So here it is…not ALL of the posts have been restored. Most of them have the text, but there are some that do not have the pictures to go with them. I am sorry if you are searching for a certain pic and cannot find it here, but most of the pictures can be found on my flickr photostream. I am SO glad to be back. Thank you SOOOOO much to all of you who continued to support me during my absence. It will not be forgotten. It is you guys that give me hope and make me believe in humanity. Thank you again.
SOOOOoooo…..let' talk a little bit about this look.  It is kind of a nice mix of some new creators and some old favorites.  I generally try on all the stuff I have purchased during the week and sometimes a look will just "come together"….this was one of those.  I guess we should start with the hair.  This is from a designer I stumbled across at Sneak Peek.  Unfortunately, this round is already over, but I included a SLURL to this designer, so hopefully you can find the hair there.  It seems to me that there are a lot of new hair designers sprouting up across the grid.  And I LOVE hair, so you can imagine how happy I was to find this one.  It is really different from most of the hair I have seen lately and what I loved most about it was the mixture of colors.  This is an ombre color, so it is mixed more than most, but they had some of the prettiest mixes I have seen in a while.  It is really pretty from the front with soft curls flowing on each side and equally pretty from the back with a soft wave.  One thing should be noted, I had a little trouble with the bangs cutting through my forehead when posing.  I made my own body and face shape from scratch LONG ago in the tents of Free Dove as a newbie.  So my head/face shape is quite different from most others I have seen.  Perhaps others would not have this same difficulty, and honestly, I cannot even tell you to try the demo first, as I cannot remember if there was a demo!  (I am NOTORIOUSLY bad for not trying on demos first.)  But the hair is SO cute that this would not keep me from buying it or wearing it.
This skin is from WoW Skins…one of my new fav's.  If you have never been there, you really should stop by and see what all talk is about.  Not only do they have some incredible skins for sale, but they are really good about featuring them at the sales events that I love to go to each week.  They also have TWO Midnight Madness boards that, to my knowledge are known for locking and they include some REALLY nice skins with several different tones and appliers.  In addition to that, there are TWO walls of lucky boards and a 30 minute stint there will find you coming out with more skins than you know what to do with!  I am not sure where I got this one from, I THINK it was on the last round of MM boards, but when I tried it on, I thought it was perfect for the look that was coming together right in front of my eyes.
Speaking of eyes….these are IKON.  I have tried several others during my hiatus, but I ALWAYS end up going back to IKON.  I have really large eyes for most SL avies, and IKON has a size that is just right for me, where as most others are too small.  And that says nothing of the literally HUNDREDS of eyes to choose from.  So…hands down, IKON remains my favorite.
This tops and leggings are from Sn@tch.  I remember going to Sn@tch a LONG time ago, when I was a baby avie.  Somewhere along the way we lost touch.  But I saw this outfit….probably from a sale (Sorry guys…I will get better at keeping up with what sales have what items) and loved it.  It is simple, but sexy and elegant.  I really liked the look of sheer gauze for the top.  It is cut VERY open on the sides and the back, but not SO open that things are hanging out…:)  It really gave me an incredible feel of sexiness when I wore it and I was so happy I picked it up.  I will be looking for Sn@tch as I roam the grid for sales.  (I just realized that sounds a little different from how I really meant it…oh well…)
Jewelry for this look was fairly simple and kind of pieced together.  The necklace has been in my inventory for (literally) years.  House of Heart was a hair shop that I frequented a LONG time ago and I have no recollection of picking up this necklace there.  I looked at the creator and HoH no longer exists in world, but does have a marketplace presence.  So I included a SLURL for her shop.  I have no idea if this necklace is there or not, but she still has some really fine hair!  The bracelet was part of a set that I picked up recently from LUMINESSE.  It has a choker and ring to go with it and most of their jewelry has an old world-y feel to it.  But I had tried it on and it looked good…so it stayed…:)  The rings I picked up from ieQUED.  I recently picked up this same set in a different color from Collabora88, but I saw this one (I think) from a past round of Fifty Linden Fridays and grabbed it.  You can't go wrong at that price!  These nails I picked up a while back from The Wicked Peach.  I have been IN LOVE with all the Slink nails that are flooding the grid and now that I am wearing a Maitreya mesh body, I am picking those up too.  I am especially loving the creators that are packing them all together and giving you several different "bodies" to choose from when wearing their nails.  I am telling ya…things just get better and better!!
Don't you just love these shoes….and they photographed so well!  They reminded me of some shoes that I had seen once in RL and I THINK they were featured one week at one of my favorite sales…fi*Friday.  They are from Revanche.  They come with a color change HUD and can change to 12 colors!!!  They are for Slink mid feet…so they are really nice for things that need an elegant touch while still avoiding those nose bleedingly high stilettos…NOT that I mind a high stiletto….:)
I picked up a new AO.  I have not had a new one in ages and mine had some really old (but still really good) anims in it.  I probably would have rocked along with my old one for much longer but as I was looking through the latest round at Cosmopolitan, I found this new special edition AO made by Vista and on sale!  How can you pass that up?  I just HAD to have it and I must say I am glad I did.  It comes with tons of stuff that you can do with it.  I usually use the one that is built in, in Firestorm, but this one has so many really NICE accessories that I will add it to each outfit, just like I do my body and hands and feet….LOL  I would guess that it will only be at Cosmopolitan during this round, so make sure you stop by there to check it out if you are in the mood for a new AO or just a new one to add to your existing AO…:)
It seems that the last two things I always post about are poses and location.  The poses are from Marukin.  I tried to find poses that would work well with this hair and would not cost me a lot of time post editing.  These worked really well.  I bought them a year ago at a round of collabor88.  I have no idea if they are still available at Marukin and I did not have a LM for the shop.  I tried to find one by looking at the creators profile, but it seems that the shop is currently under new construction and a LM is not available at the moment.  But it gave the impression that one would be available soon.
And location.  Izzie's has been one of my favorite stores for quite some time now.  She really has some of the very best skins on the grid and there is truly no end to her talent.  She makes SO many nice items that you just HAVE to stop by her store and check them out.  (Including some REALLY nice group gifts, so be sure to sign up.)  She has always had a really beautiful area behind her shop that I liked to go to for pictures on occasion, so you can imagine how surprised I was when I TP'd there and could not access that area.  BUT if you will walk out to the pier, you will find a teleporter that will take you to one of two small islands across the way.  They are set up really nicely…kind of an Italian villa feel.  And I thought they would be perfect for this look….they were.
Thanks so much for reading through this long post.  Not ALL of my posts will be this long….promise!  I just have a lot to say at the moment and HAVE to get it out, but once I do, I will be back to posting mostly SLURLS with a few comments.  Again…so glad to be back…you all have such pretty faces!!!….XOXOX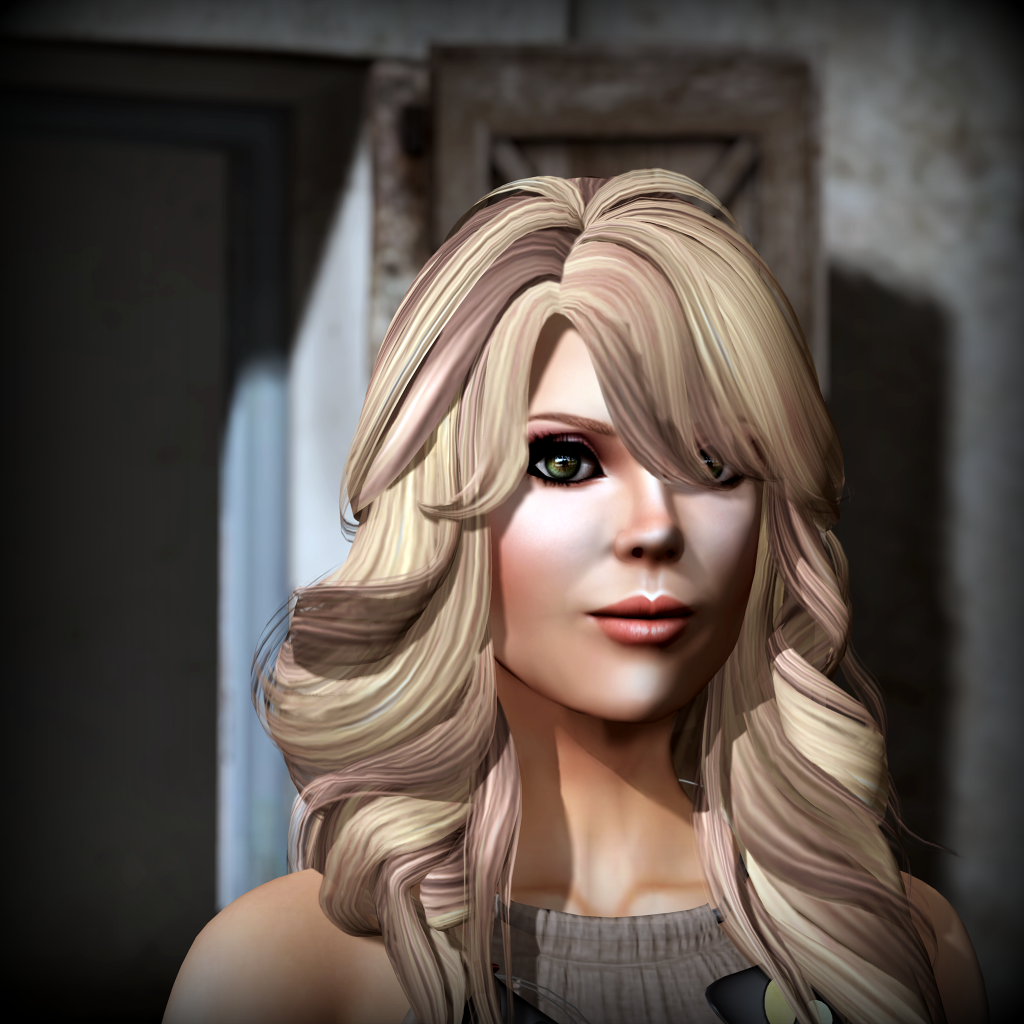 STYLING NOTES
Skin:  .::WoW Skins::. – Foxy Bronze 05 CL
Hair:  .:JUMO:. – Paloma Golden Blonde Ombre
Top & Leggings:  :::Sn@tch  – Pria Jersey Halter (Taupe), Pria Leggings (White):::
Necklace:  House of Heart  – Organic
Rings:  ieQED – jessi.rings.bronze
Bracelet:  LUMINESSE – Jatikka Sitra Leather Bracelet
Mesh Body:  Maitreya Mesh Body – Lara V3.4
Shoes:  Revanche – Embellishment Heels
Mesh Hands and Feet:  Slink  – Avatar Enhancement Feet & Hands
Eyes:  IKON  – Ardent Eyes – Growth (ML)
Slink Nails: The Wicked Peach – Idunn Gold
Poses:   Marukin LIGHT (Marukin is currently under construction, no SLURL available at this time.)
Location:  Izzie's