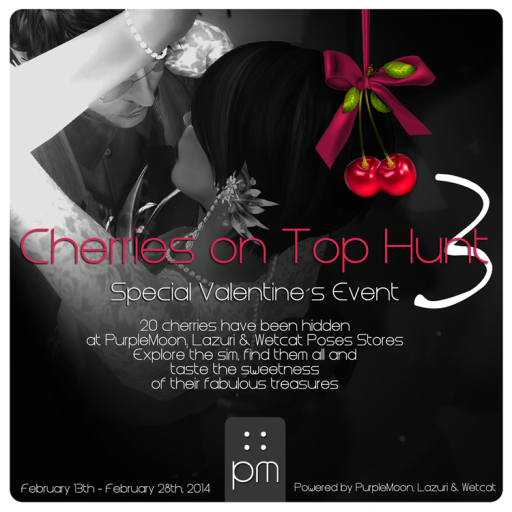 Every year PurpleMoon has a fabulous hunt and this year they have teamed up with a couple of team mates to produce a wonderful hunt.  Thing is…it is only going on thru the 28th of February…so a couple more days.  It is free to the public so RUN!!!!
20 cherries have been hidden at PurpleMoon Main Store, Lazuri and Wetcat Stores
Find them and taste the sweetness of their fabulous treasures!
Instructions
**********
1- This hunt is free and open to public (no group membership required)
2- The object you are looking for is a pair of cherries with a steam and leaf on the top (like the sample located at the entrance)
3- To receive the gift, simple touch the cherries. You will be given an object that can be worn to unpack.
4- The cherries are numbered from 1 to 20.
5- There are no hints given. They are on plain sight. Very easy to find and this is more for the fun of it than anything else.
6- The cherries have been hidden in the three stores. The cherries hanging of the ceiling are an indicator that there are cherries hidden in that room. Always ground floor, no second levels. No outdoors.
7- It is MANDATORY to HAVE FUN! Bring your friends, family, loved ones and enjoy!
With love,
Poulet Koenkamp
PurpleMoon Creations
Zuri Lyric
Lazuri Jewelry
Wetcat Flux
Wetcat Poses & Builds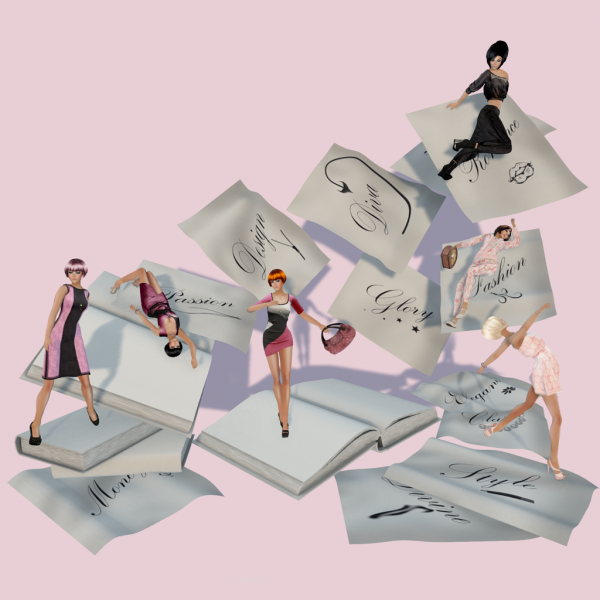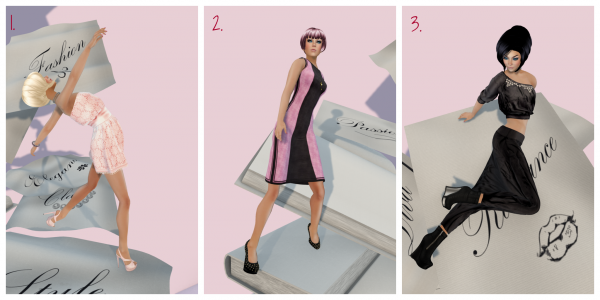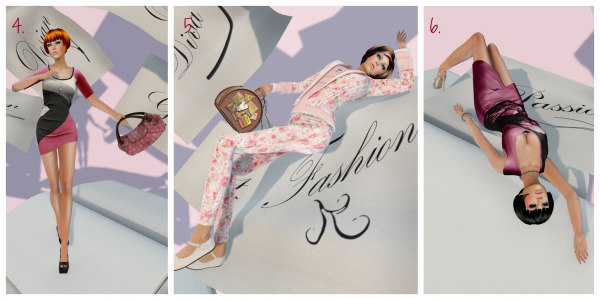 All looks feature either the Claire or the Nancy hair from Alli & Ali.  This is some of their newest designs so be sure to stop by their store for their free voting gift and group gifts.  The skin in each look is by Al Vulo and was recently featured at TDR Fusion.  The eyes are from IKON and the key necklace is from Izzie's and was also featured at TDR Fusion.  The ADORABLE pose prop you see is from W. Winx and was a previous offering from My Attic.  I absolutely LOVE the pose props and shadow boxes that W. Winx provides.  They are always reasonable priced, easy to use and SOOOO cute!!!
The purses and the choker, matching bracelet and earrings are included in the hunt as well.  ALSO….this is not ALL the offerings from the hunt!  There are several more items that I did not take pictures of…so hurry down there.  This has always been one of my favorite hunts.  I hope you find it to be one of yours too!